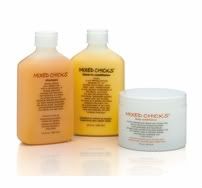 As a mother of two biracial girls I have been trying to find a perfect mixture of shampoo and conditioner to supply my 5 year olds hair with just enough moisture to allow her curls to truly shine, yet keep away the frizz. I have tried all different combinations of "clarifying" shampoo's and "moisture rich" conditioners. My latest combination that was working better than anything was "Classic Pantene" and "Pantene Relaxed & Natural for Woman of Color." The biggest problem with any and all of these products was that after playing or even just by the end of the night my daughters hair would really frizz up and almost be impossible to run fingers through, let alone brush out. I have tried different types of detangler sprays but was left with a thick waxy residue on her hair and was back to the same problems just hours later.
With so many biracial people in this world I couldn't believe it was so difficult to find a product for my little girls hair. That is until I came across Mixed Chicks, their website is full of before and after pictures showing me why I NEEDED to try this product on my girls. Luckily the ladies of Mixed Chicks are awesome and have given me this opportunity. If you have curly hair, biracial or not, you know how difficult finding THE product that works just right for your hair.
I was so excited to receive my package in the mail and couldn't wait to see the results. I have to start by saying that with the Pantene products I used before, I would have to use TONS of it, I would get a handful of shampoo and work it through my daughters hair and it would take a lot of scrubbing and squeezing to get it all rinsed out. When I would put the conditioner in I would get a heaping handful, work it through her hair with my fingers and a brush, leave it in her hair for the rest of her bath and then diligently work to rinse it out fully. *I tried using less product many different times and her hair would look dry very soon*
I was happy to see that Mixed Chicks provided me with a video to watch so I could see how to actually use their products, it showed me that a little goes a long way. For the gentle clarifying shampoo I used about a quarter sized amount and it worked into my daughters hair very easily, the texture during the wash was nothing like I had ever felt before. Instead of the normal thick sticky suds I would get from other products, this was like an airy foam feel and rinsing it out was very quick and easy. With the detangling DEEP conditioner, it comes in a tub so I just skimmed my fingers across the top and started with the front of her hair and worked through the rest, the knots slowly started falling apart and I was able to brush through her hair easily. I left the DEEP conditioner in her hair for the rest of her bath and and rinsing it out was very easy to do. While my daughters hair was still really wet I put in the LEAVE-IN conditioner. As they recommended in the video I brushed through her hair really good and then just "crunched" up her hair to allow the curls to take their true form and left her hair alone. I was thrilled to see that her curls were so defined, even with her needing a hair cut. After playing, her hair still looked great! The next day, I did a DEEP conditioning wash and LEAVE-IN conditioning treatment on her hair and was amazed by how her hair was shaping up. If you can't already tell, I am sold. I even tried this on my 10 month old who has very little hair. I couldn't believe how curly her hair got.. something we hadn't seen until using Mixed Chicks.
"Finally, a curl-defining system for "us". Whether you're black, white, Asian, latin,

Mediterranean

, or any glorious combination of the above, you'll love the way these non-sticky, lightweight products leave your hair inviting to touch as they define and lock moisture into every curl. Be a proud part of our multiracial movement..."MIXED CHICKS" your curls! And yes, it works on weaves."
WIN!
+1) Follow My blog publicly via GFC
+1) 'Like' Mixed Chicks on Facebook
and tell them "Thank you for the giveaway @One More Flew Over the Cuckoo's Nest"
+1) Visit Mixed Chicks and and tell me what you would most love to try
+1) What is the nearest location you can buy Mixed Chicks? (check via zip)
+1)
'Like'
Me
on Facebook (leave your profile name)
+1) Follow Me on twitter (leave me your twitter name)
+1 per day) Tweet -
#Enter to #Win a sample
of @Mixed Chicks amazing hair care products! @TheRhinoMisses You will be forever changed! http://tinyurl.com/3q2egcy
+1 per day)
click on the blue button to the right We're On the Fence
Make sure you comment for each thing you do, +2 means two comments.
This giveaway is open US ONLY! ENDS 5/6/2011
This contest ends 5/6/11 @ 11:59PM CST and is open to US ONLY. Winner(s) will be chosen via Random.org and will be posted on the Winners page and sent an email. Winners have 48 hours to respond or a new winner will be chosen.
*I received a free product (or products) for review purposes. I did not receive any form of compensation from the company. All opinions are my own and not influenced in anyway. My reviews are not always positive, but they are my personal and honest opinions. Other people's views and experiences with the product or products might be different from mine.