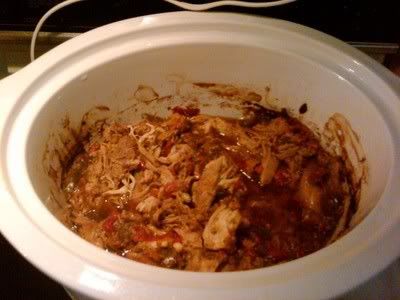 I am usually busy with my 14 month old all day and trying to get things done before my LO gets home from school. So, by the time dinner comes I end up rushing around to get something tasty on the table before bath time and bed again. After coming across a friends post on FB talking about her crock-pot dinners, it inspired me to whip out the crock-pot, throw in my ingredients and forget about dinner all day. Here is what I made.... Chicken Fajitas.... Yummmmmmy.
Ingredients:
5 boneless skinless chicken breasts (can be frozen)
2 bags of frozen peppers & onions (OR two bell peppers, any color and an onion sliced in strips)
1 package of fajita seasoning
about a tablespoon or two of lime juice
How To:
Place veggies on bottom of pot, put chicken on top, sprinkle package of fajita seasoning on top and then squeeze lime juice over everything. Turn on crock-pot for 6-8 hours depending on your crock-pot and the time you have.
SO, SO yummy, the chicken pulls apart so easily the peppers are melty in the mouth. I could put this in a burrito shell, taco shell or on salad. It's also fairly low in calories, and you could make it even more diet-friendly by using a diet product like the
Sensa weight loss
! It was wonderful to get my girls in bed at a decent hour tonight.
What do you like to make in the crock-pot?