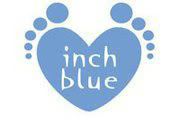 I am thrilled to introduce my next sponsor for the Newborns AND Cloth Event,
inch blue.
These little leather bottom shoes are so adorable and are perfect for my little girls feet. I love knowing that she is able to move swiftly as if she were barefoot, her little feet not squished in a pair of hard shoes. Inch blue
started
in 1990, they are a family run business with 3 kids, a dog a cat, bees and are based in the South Wales (UK). I was very surprised that I got my shoes in just 3 days of ordering, much sooner than other shops I order from that are closer to me. I could tell that they do not mass produce their shoes, the quality and detail are so spot on. They do a mixture of colors and textures that make the shoes special.
I picked these adorable
Hoot Lilac/Lavender
shoes for my little girl. It was very difficult to pick just 1 pair as they are
ALL
so adorable.
It was a toss up between the Hoot Lavender and these adorable shoes
OR
Read more about why these little shoes are perfect for your babies feet.
"We know how important safety is when it comes to our little ones, this is why Inch Blue shoes are made from the best quality, softest leather that has been exclusively developed and tested for us.
Inch Blue leather is CHROME 6 FREE and exceeds the British Standard requirements to pass BSEN71-3:1995 also conforming to all EUROPEAN SAFETY STANDARDS. Our vigorous safety checks include products passing through our state of the art metal detector to ensure there are no broken needles.
Our shoes are 100% safe…even for little toe suckers!!"
Shoe features
Supple non-slip suede soles ideal for tiled and wooden floors.

Soft breathable leather that protects and allows feet to grow naturally

Elasticated Ankles for ease of fit and ensures shoes really do stay on

Recommended for babies as the next best thing to bare feet

Loved by toddler

s

Every time I put my little girl in her inch blue's I get complements from everyone, looking at the tag saying "where did you get these cute shoes?" With the perfect fit and adorable look, I know the next pair of shoes I will be buying my baby. For just about $25 US dollars you can buy a pair for your precious baby!




or




WIN!!