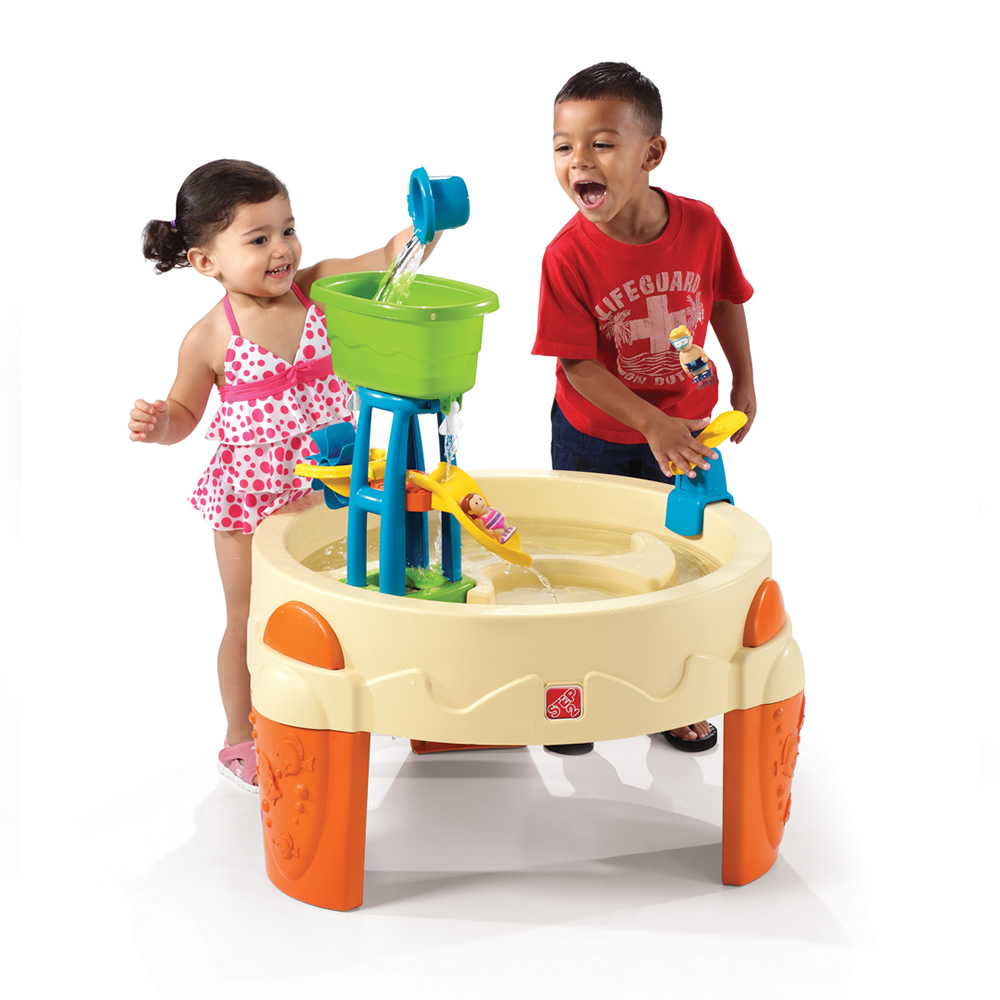 I am so excited that it is finally getting warm outside. I love nothing more than being outside enjoying the weather with my girls. My youngest daughter is very mobile at almost 2 years old and finding things to keep her occupied for any length of time can be challenging. That's there
Step2
comes in, the
Big Splash Water Park
is our new favorite outdoor activity. My girls ask everyday if they can play with the water table outside. When I got it in the mail I had to wait a few weeks until the weather accommodated outdoor play, and as soon as it was nice out, I opened it. I was expecting to need a hammer or screw driver to put it together, but
no tools were needed
. Yahoo for that. I simply snapped the legs in, and snapped together the toys that just set on top of the table and it was ready to put outside and fill with water. I filled up 3 pitchers with warm water and let my girls play into the night. My 6 year old was having just as much fun as my 2 year old, they were laughing and sharing with each other, it was great! The only downfall to the Big Splash Water park is the toys do not attach to the table and are easily knocked off. That being said, I love how easy it is to assemble and disassemble this toy, as I take it in and out each day and night.
As you can see, once I got the sturdy legs on the Big Splash Water Park, my daughter climbed in, ready to play. *this toy is not recommended for children to climb in and play*
Both of my girls really love this toy!
It comes with a big bucket to fill with water that pours onto a slide and a water wheel, it has 2 levels for the water to spill in from one to the other and a "diving board", it comes with a cup to pour with, and also comes with a little boy and girl to play with in the water.
Check out their post
HERE
for how to select age appropriate toys for your kids.
Retailing at just $39.99 it is a great addition for every one's backyard!
Exciting for YOU, Step2 has generously offered my readers a chance to WIN their very own
open to US *48 contiguous states
(If you notice any typos, mispellings OR if any part of rafflecopter does NOT work PLEASE contact me via the Contact Me Tab, FB OR by posting a comment below so I can fix it ASAP)
a Rafflecopter giveaway