This post brought to you by
Whitney Farms
. All opinions are 100% mine.
This summer I promised my 6 year old that we would work on a little garden for her to tend to. We have tried so many different ways of growing plants from bulbs and seeds into beautiful flowers but have not had a great success. I am thrilled to have found out about
Whitney Farms® a full line of 100% natural plant foods and soils with no additives, nothing artificial, just ingredients from the Earth, designed to give you big, beautiful flowers and veggies. Get the goodness of gardening naturally, with Whitney Farms® plant foods and soils.
Whitney Farms® has 25+ years of leading gardening experience and has improved their products to have: -low to no dust -no manure odor -easy to apply -Contains beneficial microbes -Specially designed protein-based blends provide your plants with both macro and

micro-nutrients

they need to grow and thrive.
This is our beginning gardening spot. While, it has grown just two sprouts I have yet to see any blooming flowers in all that was planted in this barrel.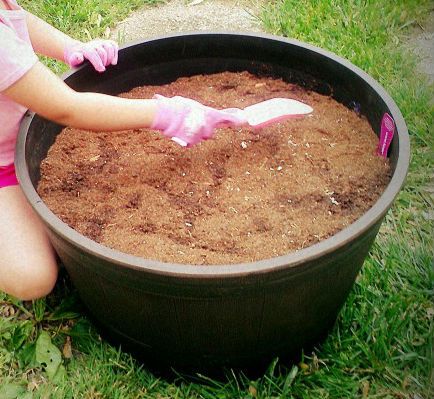 My neighbor is always out working in her yard and it looks immaculate, beautiful flowers around her house and a veggie garden in the back yard. My little girl said, "Mommy, when I grow up, I want to have a pretty house like hers". Wow, I think Whitney Farms will be just the help I need to get a green thumb, and with it being ORGANIC, it makes me feel so much safer letting my little girl dig around and get dirty.